Exploring Cochamo Valley, Chile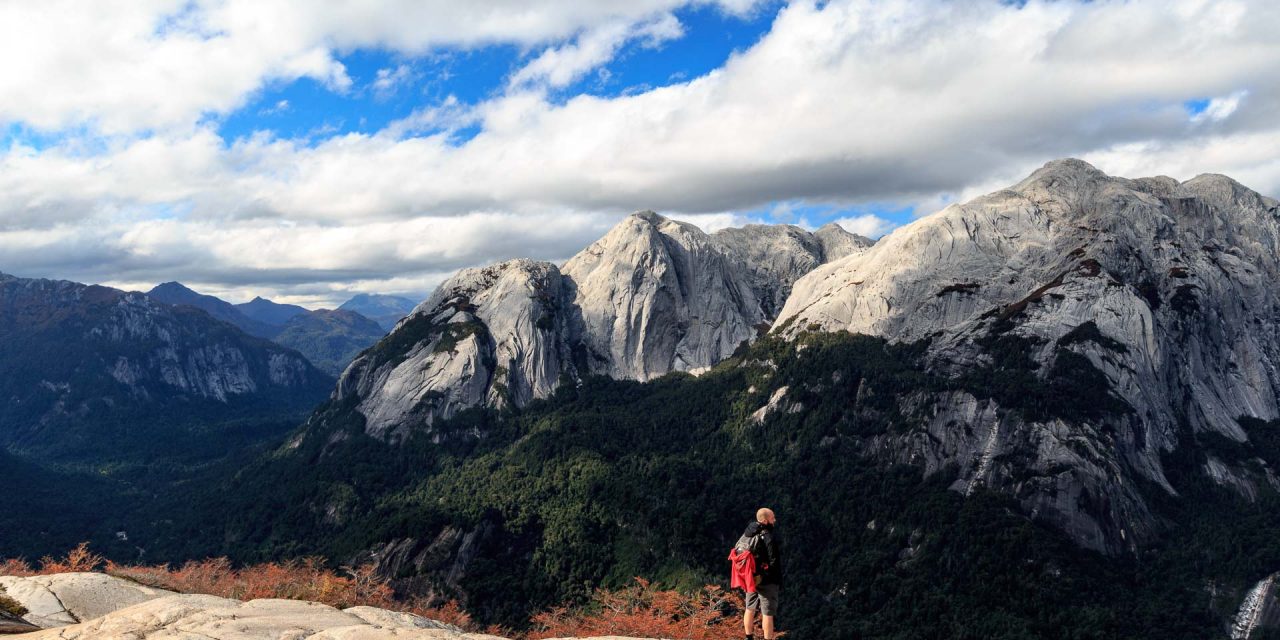 It has been called the Yosemite of Chile. Chileans call Yosemite the Cochamo of the United States. I think it should be called Narnia. In truth, Cochamo Valley is beyond comparison, and can only be truly appreciated firsthand. Unfortunately for all of us, you can't crawl through the back of a wardrobe to get there. Until that happens, you can use this guide from my experience spending 3 nights hiking and camping in Cochamo Valley
Cochamo Valley's granite cliffs rise one thousand or more meters from the valley floor, where four families have owned and worked the land for generations, creating a unique juxtaposition of quaint cattle pastures and farm houses surrounded by neck-craning walls of glacially-carved rock in all directions. Butch Cassidy and the Sundance Kid drove their cattle here from Argentina to sell while they were in hiding. If that doesn't sell you, I don't know what will.
Whether you're a hardcore climber, a multi-day trekker or a casual base camp day-hiker, Cochamo has something to offer.
Getting There
Cochamo is about 2 hours by bus south from Puerto Varas or Puerto Montt along the Careterra Austral.
By Bus: About 2 Hours. 2,500 CLP each way.
Its super easy and inexpensive to get to Cochamo by bus. You can catch a bus roughly every 2 hours from Puerto Montt to Cochamo, stopping in Puerto Varas, Ensanada, and really just about anywhere else along the way if you flag it down. Buses in Chile are not as rigid on their scheduled stops, so if you're staying somewhere between any major towns along the bus route, you can still hail it from the side of the road.
Tell the bus driver that you're going to Valle Cochamo, or la puenta (the bridge). It's about 3 miles south of the town of Cochamo itself. When you get off the bus, there will most likely be taxis waiting to give you a transfer up to the trailhead for about 1,500 CLP per person. You can walk the road if you have the time and energy, but it's about 7-8 km to the trailhead, so I'd say it's well worth the price of a transfer.
If you don't want to take the bus, hitching is quite common throughout Chile, especially in Southern Chile. It might take a little longer, but if you have the time, you can save yourself a little bit of money and meet some interesting people along the way. Knowledge of Spanish is a plus, if not for conversation then at least to communicate where you're going.
Once you get to the trailhead, it's time to start trekking! There is a service to haul your gear for you on horseback if you wish. For climbers with lots of extra climbing gear, this might be a worthwhile option.
The Trail
Distance to La Junta: 13 kilometers (a little less than 8 miles).
The trail to La Junta is quite muddy in spots. Primarily used as a cattle trail, there are some areas with significant amounts of mud and deep ruts, so take this into account with footwear. Either gear-up with some rubber boots or sturdy hiking boots, or come to terms with the fact that you're gonna get a little muddy and go with your standard hiking boots/ trail shoes (I chose the latter).
The elevation is not significant. It's a steady climb from sea level to about 900 feet / 300 meters.
Where to Stay
There are two options to stay in Cochamo Valley: You can camp, or you can stay in Refugio Cochamo. Camping is by far the least expensive, costing 4,000 CLP per night. There are a few different campgrounds, owned by different families. I stayed in La Junta, which has a ton of room for tenting, but during the high season of January and February, make sure to make reservations in advance. It has (cold) running water for drinking and doing dishes, 2 different cooking shelters with fire pits, and pit toilets. It sits right alongside the river, perfect for a refreshing dip after a long hike.
[vrview img="https://landscapesontherun.com/wp-content/uploads/2017/06/PANO_20170415_191943.jpg" width="100%" ]
Refugio Cochamo closes in Mid-March, so unfortunately, I didn't get a chance to have a look inside. The Refugio is basically a hostel, which also provides meals, so if you don't want to rough it and bring all of your own food and camping gear, it's a great option.
What to Bring
Footwear:
Keeping in mind the mud of the trail into the valley, the other day-hikes from La Junta generally involve big gains in elevation and up some areas of bare granite. You definitely need shoes with a good tread. I hike just about everywhere in Altra trail running shoes, from Alaska to Torres Del Paine.
Clothing:
This is the Patagonia. Weather can change at the drop of a hat, so really you need to be prepared for everything from rain to wind, and maybe even snow if you're arriving in early spring or later in fall. Here are some basics I'd recommend.
-wool hat
-insulating mid-layer
-rain jacket
-I always recommend using merino wool for camping. It doesn't get stinky, it stays warm even if it gets wet, and the right merino is more environmentally friendly than synthetics. I use Icebreaker.
Gear:
-45-60 liter backpack (depending on how long your trip is and how good you are at packing light)
-hammock! Because you never know when a hammocking opportunity might strike.
-a quick-drying pack towel
Hiking Options
There are a bunch of day hikes, as well as multi-day adventures that you can access from Cochamo Valley.
Arco Iris
There's nowhere to go but up…
Arco Iris forms the north wall of Cochamo Valley, rising almost 4,000 feet above La Junta. The hike gets steep REAL quick, so be prepared to set in for a steady pacing of big elevation gain, using roots to help you climb some spots, as well as a couple sections of bolted rope guidelines to get up some more exposed areas of rock.
[vrview img="https://landscapesontherun.com/wp-content/uploads/2017/06/PANO_20170416_124117.jpg" width="100%" ]
Anfiteatro (Amphitheater)
The Amphitheater, named for it's half-circle formation of granite walls, rises from the other side of the valley from Arco Iris. Similarly to Arco Iris, but not quite as extreme, the hike gains steady elevation for about two hours before leveling out and opening up out of the trees and into a rocky basin. You can follow the stream beds all the way to the back wall of the amphitheater, and proceed to practice your echoing techniques off the valley walls. Keep an eye out for climbers on the walls in January and February.
[vrview img="https://landscapesontherun.com/wp-content/uploads/2017/06/PANO_20170417_145823.jpg" width="100%" ]
Quick note: I didn't do the hikes below, so I can't make firsthand recommendations. For more info, check out the Cochamo Valley website.
Trinidad
Trinidad shares the same initial trail as Anfiteatro, but splits off to the left/southeast. It's one of the more popular routes for climbers, and the trail has been reported to be more of a climber's approach trail rather than one for hikers. If you have a problem with exposed hikes (exposure means exposure to risk of injury in the event of a fall because of steep terrain), this may not be the best one for you.
Paso Leon to Cochamo
Ok, I am dying to go back to Cochamo and try some point-to-point hikes like this one. Basically, you can hike from Argentina through to Cochamo valley and back out on the Chilean side. It is recommended to go from Argentina to Chile, as it's slightly easier in elevation, but you could go either way. Check out a description on the Cochamo Valley website.
Puelo to Cochamo
It's also possible to do a circuit (staying in Chile) to/from the town of Puelo, about 40 minutes drive south of Cochamo on the Carretera Austral. The hike can take anywhere from 6-9 days depending on your speed and conditions. I found more information about the hike at andeshandbook.org (until I can get back and give you a firsthand account myself!)
Planning your visit? What other questions do you have? Comment Below.